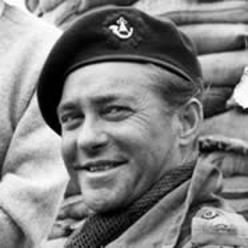 Actor,
Richard Todd
, born Richard Palethorpe-Todd of Anglo-Irish stock, somehow captures something of the spirit of the old Britain.
This is he as a major in the 7th Light Infantry Parachute Battalion in the film
The Longest Day
, reproducing the very battle he had actually been in himself.
Todd's father was an Irish physician and also notably an International Irish Rugby player who gained three caps. Richard spent a few of his childhood years in India, where his father, a British officer, served as an army physician.
Todd attended Shrewsbury School and went to Sandhurst to train as an army officer before starting his acting career.
Serving in the 7th Light Infantry Parachute Battalion, he was one of the first British officers to land in Normandy on D-Day and met up with Major John Howard on Pegasus Bridge. Todd would later play Howard in the
The Longest Day
(1962), the original idea being that he would play himself (later played by another actor with a smaller part).
Here is a classic clip from the film
The Longest Day
. Lord Lovat, known as "Shimi" Lovat from his Gaelic name
MacShimidh
meaning son of Simon (many generations of Lovats were named Simon), leads his Regiment of Lovat Scouts off the Normandy beaches to the skirl of the pipes, with his Piper, Millan, playing
The Black Bear
, the march to which all Scottish Regiments return to barracks.
With the traditional eccentricity of dress of the British officer of a certain class, Lovat hardly wears uniform at all, sporting an old sailor's roll-neck sweater instead. It's an old tradition among aristocratic British officers. The Duke of Wellington almost always wore civilian clothing in battle.
Todd plays Major Howard (next to him another actor plays Captain Richard Todd as he then was) who is holding the famous Pegasus Bridge until relieved by Lovat and his Scouts ("hold until relieved" were Howard's orders).
Perhaps Todd's most famous part was in
The Dam Busters
, when he played Wing-Commander Guy Gibson VC DSO DFC, the famous commander of the "Dam Buster" Squadron.
Another classic British actor was
Leo Genn
.
He was born at Kyverdale Road, Stamford Hill, Hackney, London, England. His father, Woolfe (William) Genn, was a jewelry salesman and the maiden name of his mother, Rachel, was Asserson.
My guess is that, with names like that, and born in Stamford Hill, this classic English actor was probably Jewish, too. But like many actors of his generation he was also a man of many parts.
Genn attended the City of London School and studied law at Cambridge, qualifying as a barrister in 1928. He ceased practising as a lawyer soon after the Second World War. On 14th May 1933, Genn married the former Marguerite van Praag, a casting director at Ealing Studios. During the war he served with the Royal Artillery and reached the rank of Lieutenant-Colonel. Perhaps his most famous role was as Flt Lt Howard in
The Wooden Horse
, the classic story of escape from Stalag Luft III, the POW camp for captured British airman.
Another classic British actor was
John Gregson
, famous for many roles. A classic representative film is the 1952 war-time air fighter classic,
Angels One Five
, in which he plays an RAFVR Pilot Officer fresh from a University Air Squadron joining an operational Squadron. The film also stars other classic British actors, like
Jack Hawkins
, as well as
Michael Denison
and
Dulcie Gray
, later a famous husband and wife team.
John Gregson
who starred in many films including

Genevieve


a very British 1950s film about the London to Brighton vintage car race.
Of course, some of these films were propaganda but that is not the point. It is the fact that this is what the British film-makers, people and government
aspired to
.
What is so remarkable about those aspirations is that their clear message of self-restraint, courage, self-sacrifice, self-deprecating patriotism, humour under trying conditions, gentility and chivalry could not be more contrasting with the alley cat morals to which so many seem to aspire in modern Britain.
Americans now refer to those of the war-time generation as "the greatest generation" for the self-sacrifice they showed, taking deprivation and the horror of war in their stride.
Too many British are now either too cynical or too dull to do the same and have virtually forgotten the great sacrifices made by those who went before us. Thanks to "New Labour" and its ridiculous vision of "Cool Britannia" modern Britons are more interested in money, sex, drugs and themselves than they are in anything remotely resembling the self-sacrifice of the war-time generation.
How lucky we are these days to have such paragons of virtue and integrity as...well let's think now...err...I know...
Jacqui Smith!
Yes, folks! That's the great Home Secretary whom we now discover has been thieving from us dumb tax-payers to the tune of over a hundred thousand a year for her alleged "home" in the constituency.
Is she resigning?
Her? Not a bit of it!
If you can stomach her nauseating drivel, try this for her pathetic explanation for why she felt it was acceptable for the Home Secretary to stiff the public purse:
What happened to those Tory MPs who did far less? They got hounded by the media until they were either forced out by their colleagues or, in the more serious cases, tried and imprisoned.
Will the same be happening to the dodgy Jacqui Smith?
Nope. They'll let her off, of course.
That's New Labour, mate! See how that works?
If she had an ounce of self-respect or integrity she would have long since
RESIGNED
!
Welcome to modern Britain.
We're sick to the back teeth of the new, fraudulent, dishonest, neo-Fascist Britain.
We want the old Britain back before the new one turns into a fully-fledged totalitarian state run by unimpressive, New Labour know-nothings!
...